Glasses for students are obviously very important for learning. Before we assess students for special education we check their hearing and vision. Sometimes it can be outside of a family's budget to purchase glasses (especially with active students breaking their glasses). This post should provide you with some ideas to help obtain affordable glasses and why it is important.
Articles
Third of children who need glasses aren't wearing them – and this may be impacting their academic, social and emotional learning
Encouraging your child to wear glasses
UCLA Study: Impact Analysis of Vision to Learn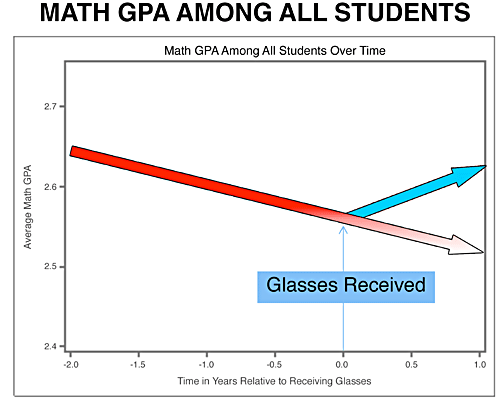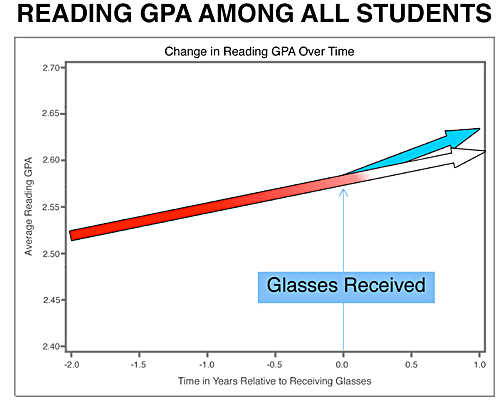 Resources
Vision To Learn started with a single van in Los Angeles in 2012 and now operates in more than 325 cities from Honolulu to Baltimore, becoming the largest school-based program of its kind in the nation.
New Eyes for the Needy purchases new prescription eyeglasses for low-income individuals in the U.S. through a voucher program. To be eligible for the program, applicants must:
Meet the U.S. Poverty guidelines.
Have had a recent eye exam. New Eyes does not pay for eye exams.
Have no other resources available to them to pay for glasses, including federal or state programs or assistance from local charitable organizations.
After applying for assistance and being provided with a voucher, clients will then be able to present a New Eyes eyeglass voucher to any one of a number of participating local eye doctors, retailers or optical dispensers. These locations will then proceed with fitting you with the proper prescription eyeglasses that will be free of charge. A New Eyes voucher typically covers only the cost of a basic pair of single or lined bifocal eyeglasses. The dispenser or doctor will then receive reimbursement directly from New Eyes.
For more information about New Eyes, call 1-973-376-4903 or visit the New Eyes website.
VISION USA
VISION USA is a service of the American Optometric Association and provides assistance to uninsured, low-income individuals and households.
You will need to apply for help. If after applying, you are found to be qualified for assistance you may be eligible to receive services from a local eye doctor.
Patients will be provided with information and partnered with one of the many volunteer doctors of optometry who are located around the nation and in your local community. They will provide you with a free, high quality, comprehensive eye exam at no charge to the individual. While currently a contact lens exam and / or contacts are not available through the VISION USA programs, free eye wear may be provided at no cost to the client or for a small fee/donation in some states under certain conditions and situations. At least one person in the household must be employed to participate in the program.
To apply for a free eye exam or glasses, call VISION USA at 1-800-766-4466 or visit the VISION USA website.
Lions Club and OneSight
Lions Club international has gained worldwide recognition for their work to improve sight and prevent blindness. OneSight, A Luxottica Group Foundation, is a family of charitable vision care programs dedicated to improving the vision of people around the world through outreach, research and education.
Lions Club and OneSight work together to provide eyeglasses to those in need through:
Special Price Voucher – Lions clubs may purchase an unlimited number of eyeglass vouchers for pre-screened individuals. The special price is US$50 per pair in the United States and US$70 per pair in Canada. Eye exams are not included. The vouchers are available in a book of 10. To order a book or single voucher, call OneSight in Mason, Ohio at 1-888-935-4589.
OneDay – On OneDay [formerly known as Hometown Day], the second Tuesday of December, LensCrafters, Pearle Vision, Sears Optical and Target Optical open their doors early to provide free optical exams and new eyewear to thousands in need.
Lions Club assistance varies across the country, so check with your local club to see what they offer. For example, in our local community, the Lions Club focuses on helping children who have been referred to them through the school. Visit the Lions Club website to find a club near you.
EyeBuy Direct and ZenniOptical
Several online eyeglass companies have started to crop up and fill the need for affordable eyeglasses. With no overhead or 'middlemen,' online eyeglass retailers have some of the lowest prices I've seen, with a complete set of progressive lens glasses coming in at $45 when you start with a $6 frame; they look good, too. Visit EyeBuy Direct or ZenniOptical website to learn more.
These are some of the resources that I have found to help adults who can't afford to buy a pair of glasses. What other resources can you add to the list?
Accommodations
CLASSROOM ACCOMMODATIONS FOR STUDENTS WITH VISUAL ISSUES
Videos